DISCOVER: The Duke's River Walk
The lower Duke of Northumberland's River flows for 4 km from Kneller Gardens in Twickenham to the River Thames in Isleworth. The river was constructed in the sixteenth century to supply water to mills in Isleworth. Today the river is a tranquil green corridor through urban west London linking the River Crane to the River Thames.
Download the printable map (below) or the full leaflet (right), with map and information, to help you follow the Duke's River. Detailed directions of how to get there are given at the bottom of this page.

You can also follow the walk on your mobile device by downloading the TiCL APP and searching for The Duke's River Walk.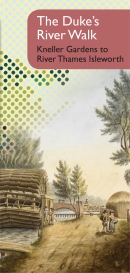 Download A4 Leaflet
Printable map ...
How to get there ...
Duke of Northumberland's River (DNR) runs from the River Crane at Mereway Nature Park, northwards past the Stoop and RFU stadia through Mogden and then eastwards through Silverhall Park to theThames at Isleworth. There are a number of places to join and see the DNR. Click on the Location or Postcods (below) for maps.

Transport for London link