Volunteer Sundays
Our Volunteer Sundays take place on the second Sunday in each month from October through June. We work at a variety of locations in the Lower Crane Valley, and whatever age or ability we have a way in which each individual can help. We encourage people to join us for an hour, the whole day, or just say hello and find out what we are up to. Old clothes and stout footwear are recommended.
Volunteer Sundays normally start at 10.30 and end by 16.00. If you can stay all day please bring along some lunch - we provide drinks. Or come along for an hour or two to see what we get up to.
For safety reasons under 18s must be accompanied by an adult. FORCE's Safeguarding Policy.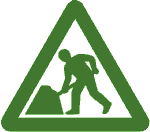 2017-18 Volunteer Sunday Programme

Date

Location

Activities - normally confirmed 2 weeks before event


8th October 2017
Twickenham Junction Rough
Directions
Work on this new site to plant hedges and improve its environmental value.
12th November 2017
Willow Way
Directions
Maintain the hedge and pathways and planting ore marginal plants along tyhe river.
10th December 2017
Craneford Field West and Twickenham Rifle Club
Directions
Maintain the Rifle Club site, Craneford Fields and Marsh Farm Lane.
2018
Volunteer Sundays for 2018 are currently being planned for the following dates. Put them in your diaries now! Details of locations and activities will follow.
14th January 2018
11th February 2018
11th March 2018
8th April 2018
13th May 2018
10th June 2018
inks to other volunteer pages...