Mereway Nature Park: HISTORY
Address:
Mereway Nature Park,
Off Mereway Road,
Twickenham,
TW2 6RG
Mereway Nature Park lies between the River Crane and the Duke of Northumberland's River. The River Crane, now in a concrete channel, was straightened and deepened from this point in the 1930's.The Duke's River was constructed in 16th Century to provide a water supply to mills in Isleworth.
In 1864 a map of the area shows Mereway and the opposite bank of the River Crane as orchards. By the 1870's Twickenham borough council had bought the land and developed a sewage works and "dust destructor" (or incinerator) on part of the land that was not marsh. It was described as a "convenient spot of wasteland at a distance from the town, known as Mereway" (The Builder 31/1/1880). The town's isolation hospital was located nearby. Facility was rebuilt in the 1880's as "a growth in the population from 10,000 to 27,000 naturally called for a further extension." The sewage works was in use until the 1930's when a much larger facility was constructed at Modgen Lane. The buildings now form part of Richmond Council's Craneford Way depot.
Old maps show that the site was part of a larger market garden until the Council acquired it in 1897.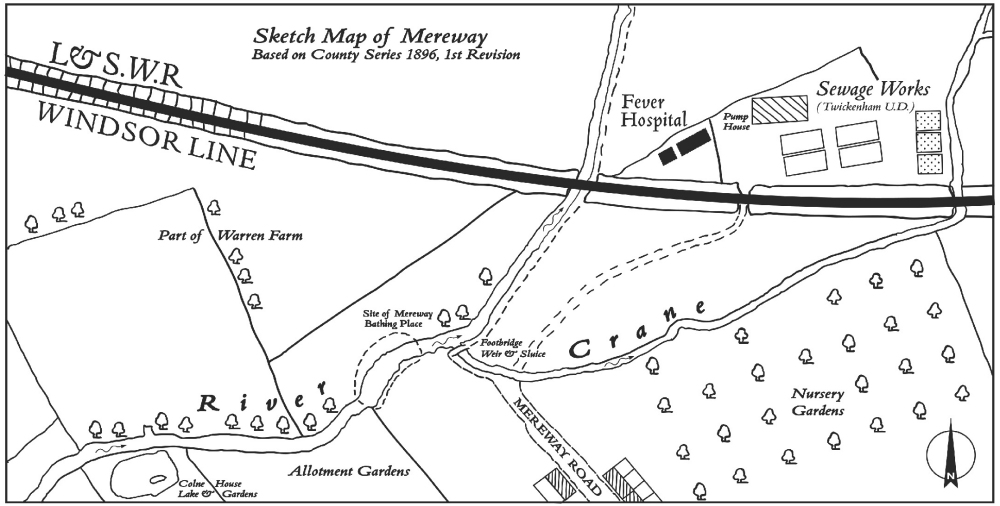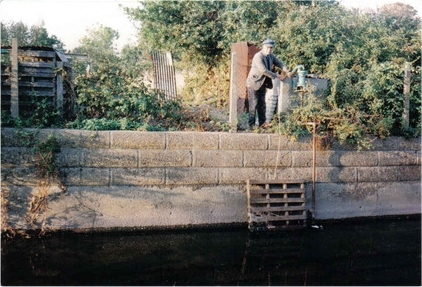 In 1896 the remainder of the land was drained. From 1915 to October 1990 Mereway was a council run allotment garden. It was abandoned in the 1990's and left to naturally regenerate. In 2003 FORCE opposed building on the site and in 2006 the site was renamed Mereway Nature Park. In 2009 the Kingfisher Bridge was opened linking Mereway Nature Park and Kneller Gardens.