LEARN for Schools
Hunting mini beasts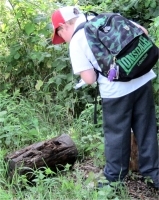 The Outdoor Classroom - Outdoor Learning Teaching Resources
These teaching resources have been designed for primary school classes to use in green outdoor spaces. Lesson plans and ideas are provided for use in most parts of the curriculum at key stage one and key stage two levels.
These resources were originally designed for use in Mereway Nature Park and Kneller Gardens, two adjacent sites in the lower Crane valley of Twickenham, West London. However it is hoped that they will also be adapted by teachers for use in other outdoor sites in the Crane Valley and elsewhere.
This package has been put together by Friends of the River Crane Environment (FORCE) as part of its commitment to promote the educational value of the Crane valley. FORCE will permit the use and reproduction of these teaching resources for not-for-profit educational purposes. We welcome feedback from anyone who uses these resources or who would like to contribute ideas and suggestions for additional sheets.
CURRICULUM RESOURCES

Curriculum focus

Worksheets for pupils

Resources for teachers

Notes

Geography

Maps
Geography, Orienteering, Map reading, Team work, Maths: Mereway and Kneller Crane Park
Photo trail
Orienteering
Geography, Orienteering: Mereway and Kneller Crane Park
Treasure Hunt
The River
River Crane
River channels
River flooding

Geography & Citizenship

River pollution and human impact on the environment
Rivers, Environment, Pollution, Water, Water quality

History

Duke of Northumberland's River
Local history, Land use, Mills, Maps, Literacy, Design and Technology, Science, Water power
Mereway bathing place
Local history, Land use, Victorians, Swimming, Rivers, Maps
Playground
Local history, Land use, Mapping, Literacy

Literacy

A-Z Grid
Description
Plants I saw
Senses
Story
Watery words
Poetry, Rivers
Watery words - Dickens:
Literacy and history

Music

Crane Music
Music, PE, Dance, Mime
Sound mapping
Music, Science Sounds, Maps, Sound mapping, Musical elements, Vibration, Resonance, Sound, Rivers

Numeracy

Length
Shapes 2D
Shapes 3D
Symmetry
Bridges and repeating patterns
Weights

Science

Animal or plant hunt
Bridges
Bridges
Bridges, Land use, Geography, Science, History
Food chains
Materials
Plant parts
Push & pull
Seasons

Science & Diary

If you saw it, tick it

Science & Numeracy

Mini beasts

Science & Art

The river as a habitat
Rivers, Habitat, Vegetation

PE, MFL

Working together
Team work, Co-ordination, Communication, Logical thinking