Volunteer Sunday - Twickenham Junction Rough
Sunday 09 October 2016
10:15 to 16:00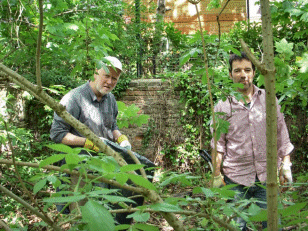 To start the 2016-17 Volunteer Sunday season, we will have our first opportunity to work on the new path being constructed between Brewery Wharf and Marsh Farm Lane through the Twickenham Junction Rough.
The confirmed programme includes: hedge planting, loggery building, river clean-up, clearing litter and generally improve the open space that's being created,
SPECIAL INSTRUCTIONS
Twickenham Junction Rough is currently part of St James' Brewery Wharf site, an active building site. All volunteers must attend a St James site safety briefing. Meet in the building forecourt for a 10:15 briefing. Please be prompt as numbers are limited to 25 volunteers. Unfortunately this location will not be suitable for very young children.