Volunteer Sunday at Willow Way
Sunday 09 December 2018
10:30 to 16:00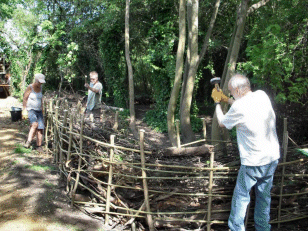 The Volunteer Sunday is going to be held at Willow Way. FORCE would greatly appreciate your help in maintaining this local environment for us all. We align activities to your ability or skills with smaller jobs and large. Today we shall be undertaking :
Bramble removal
Remove vegetation growth from hedge
Strim the entrance
Removal of ivy from trees
Litter pick off road by bus stop
Woodchip path
If you only have an hour do come along, likewise if you want to spend all day with us. Please wear suitable outdoor clothing and footwear as some areas may be a little muddy. Due to safeguarding needs all children must be accompanied by a responsible adult. We have a lunch break about 12.30 so bring sandwiches or snack for yourself, whilst FORCE brings hot drinks and biscuits to share. Thank you for helping !
Duke of Edinburgh notification 20 October 2018 : This year we have received significant interest from students expressing an interest in volunteering as part of their studies for their Duke of Edinburgh award. While we are delighted to have so many wishing to volunteer with FORCE we have reached the limit of the number of students we can realistically accommodate. If you have not received a response from us it is unlikely, in the short-term, we will be able to take you on. If you wish to be involved with FORCE in the future please respond via info@force.org.uk
One of our partner organisations, South West London Environment Network (SWLEN), has a list of other groups working in the local area and there might be other opportunities for volunteering in green spaces in the borough. https://swlen.org.uk/local-groups/ and https://swlen.org.uk/events/