In the News: Crane Park Island ...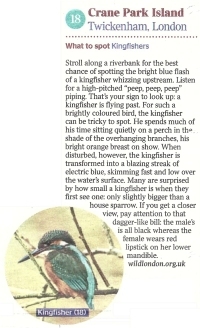 Crane Park Island was featured in The Times on Saturday 20th February 2016 in the UK's "30 best wild places", one of only two sites in the Greater London area.to be included.
Crane Park Island was highlighted as as the place to see kingfishers.
'Stroll along the river bank for the best chance of spotting the bright blue flash of a kingfisher whizzing upstream. Listen for the "peep, peep, peep" piping. That's your sign to look up.a kingfisher is flyjng past...'
For the full article click HERE (subscribers to TheTimes only).
Crane Park Island is located in the Richmond side of Crank Park and in 1990 was made a Statutory Local Nature Reserve and named Crane Park Island LNR. It is managed as a nature reserve by the London Wildlife Trust on lease from the London Borough of Richmond upon Thames. Crane Park Island was an integral part of Hounslow Gunpowder Mills, see Crane Park - Richmond: History for more details.
For directions, see How to get there...